AN EXCERPT FROM STILL WATER, WHERE ART GARFUNKEL DISCUSSES THE EVOLUTION OF THE ANIMALS' CHRISTMAS:
The Animals' Christmas took up the middle of the Eighties for me, it finally came out in Christmas of '86 after four years of my performing it and then recording it. In '83, my friend Jimmy Webb showed me a piece he was writing, a cantata for children's choir and small orchestra for his local church in Tuxedo, New York. And it being a noncommercial endeavor, I was particularly interested in it, because I had become cynical about the fact that the record business will professionalize one's musical attempts in a way that can hurt them. And I followed Jimmy's rehearsals in Tuxedo and loved "The Animals' Christmas." I told him I wanted to get involved. By the next year, he had written an extension, doubled its length and wrote various sections for me as solo singer, narrator, and the angel Gabriel. He added a woman's part - the Virgin Mary. We all performed it with orchestra, children's choir, boy singer, girl singer, at St. John the Divine Cathedral that December in New York, and also at Festival Hall in London. We made a live recording of the show, which later seemed to me too loose. So we planned to record it in the studio, the following Christmas. I started in London in '85 and recorded the London Symphony Orchestra; we added the choir from Wimbledon that winter; come the spring I was in Montserrat doing my vocals with Geoff Emerick; I traveled to Nashville to get Amy Grant's vocals on the album, then came to New York for some percussion overdubs - Steve Gadd on drums, and others. I had it finished by Christmas of '86. It's a gothic cathedral of an album; it's very ambitious. It was the type of project that would have been done by papal commission long ago.

For more information: Email dmc@artgarfunkel.com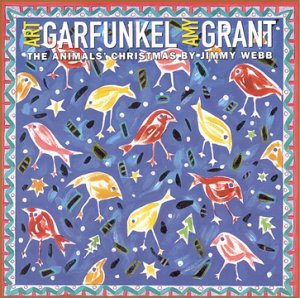 Luke.1 v.26-38.

The Creatures of the Field

Just a Simple Little Tune

The Decree

Incredible Phat

The Friendly Beasts

The Song of the Camels

Words From An Old Spanish Carol

The Frog

Herod

Wild Geese